Israeli Jews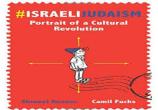 The book, published in Hebrew in 2018 and English in 2019, is based on a survey of beliefs and practices among 3,005 Israeli Jews. The...
→
The poll, carried out by the Dialog Institute and led by Prof. Camil Fuchs, was commissioned for Haaretz's inaugural Judaism, Israel and...
→
The state claims that it provides education to all children according to the law. It emphasized that, "The plaintiffs, as well as their...
→