Tel Aviv University In Top List For Startup Founders
Monday, 13. February 2017 - 18:04
Overall, US institutions account for nine of the top 15 most popular universities among unicorn founders. However, with seven graduates who founded billion-dollar startups, Israel's Tel Aviv University (TAU) is placed at a better spot than such Ivy League schools like Cornell University.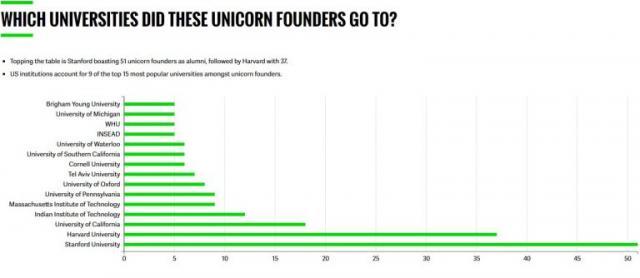 TAU alumni who have gone on to establish startups that are currently valued at $1 billion or more include the founders of Israeli cyber-security company ForeScout Technologies: Oded Comay, Dror Comay, Ori Naishtein and Hezy Yeshurun, who studied computer science and mathematics, according to Forbes Israel. Founded in 2000, ForeScout offers organizations the ability to see devices connected to their network and remotely control them. Founders of Conduit, another Israeli unicorn, are also on the Sage list. Founded in 2005 by Gaby Bilczyk, Dror Erez, and Ronen Shilo, the cloud-based software company is now worth $1.4 billion.
Some founders of ironSource, an Israeli software startup worth $1.02 billion, also graduated from Tel Aviv University. The online software distribution and monetization company was founded in 2010 by Eyal Milrad, Omer Kaplan, Arnon Harish, Itay Milrad, Tamir Carmi, Tomer Bar Zeev, Tomer Bar Zeev, and Roi Milrad.
The largest university in Israel 
With more than 30,000 students, Tel Aviv University is the largest in Israel. The public research university boasts nine faculties, 17 teaching hospitals, 18 performing arts centers, 27 schools, 106 departments, 340 research centers and 400 laboratories. Some of its most notable alumni include author Dan Ariely, novelist Etgar Keret, screenwriter Gideon Raff, and the late Israeli astronaut Ilan Ramon.
The Center for World University Rankings recently ranked Tel Aviv University 81st in the world and third in Israel in its 2016 CWUR World University Rankings.
Most unicorns per-capita in the world
In a separate report released this week, accounting firm Baker Tilly says Israel is the nation with the most unicorns per-capita in the world. The report includes unicorns that were founded by Israelis but aren't necessarily headquartered in Israel. Among the highest-valued unicorns founded by Israelis is WeWork, a shared office space firm said to be worth $17 billion, which was co-founded by Israeli entrepreneur Adam Neumann.
Another well known Israel unicorn is navigation app Waze, which was sold to Google in 2013 for $1.3 billion. Israeli content recommendation platforms Taboola and Outbrain, are also on the prestigious unicorn list, as well as Israeli taxi-hailing platform Gett. Other privately held Israeli startups with a valuation of $1 billion or more include Tango, Houzz, Tanium, Compass, Actifio and Magic Leap, according to Baker Tilly, which says that in 2016 there were 183 unicorns in the world.
Einat Paz-Frankel