Incomprehensible COVID Failure of Israel's Education System
Sunday, 7. February 2021 - 11:48
Between September 1 and January 25, most wealthier countries around the world managed to keep their schools open, fully or at least partially, UNESCO data shows. In Israel, in-person teaching in schools never occurred simultaneously in every locality and at every age level.
The Education Ministry insisted on starting the school year in September, using a plan rife with issues. It set out without a budget for its unwieldy segregation model, relying on large capsules that were not hermetically sealed, despite warnings that it was liable to lead to spread of the virus. Even though this led to schools closing down after just two weeks, Education Minister Yoav Galant insisted on replicating the model after the second lockdown. Consequently, they were closed again. The government never tried to alter the model or learn from other countries, heading into disaster.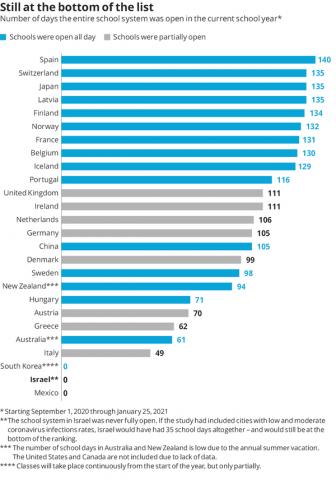 Educational institutions are open in most developed countries even now. While some European nations, like the United Kingdom, Germany and the Netherlands, closed schools and kindergartens recently because of high infection rates, they did so after students managed to get in over 100 days of in-person learning over the past four months. Israel will not be able to make up for this gap, even if its schools fully reopen and stay open through to the end of the school year. Most OECD members – like Switzerland, Spain, France, Finland, Iceland, Australia, New Zealand and Japan, as well as non-member China – completely opened their school systems during the current school year, not even missing one day of grade school or kindergarten.
In Israel, schools were closed on September 15, just two weeks into the school year, and tried to return to routine in late October. Still, middle schools only joined December 6 and then broke for Hanukkah just before classes were canceled in early January because of the third lockdown. All classes were taught remotely during the lockdown – and the system turned out to be ineffective. Most students relied on Zoom, which many education experts have found to be inefficient and possibly harmful to students, but the ministry didn't rethink how to utilize the potential in digital learning.
The Education Ministry also failed to provide creative solutions, like studying outdoors in good weather, or to hold frequent individual meetings between pupils and teachers. The ministry didn't create and operate more flexible models like studying in small groups, even a few days a week – solutions that could have prevented a total shutdown.
Lior Dattel