American Jews: Demographics and Identity
Monday, 27. July 2020 - 20:17
That depends whose figures you go by. The official estimate is provided by "AJYB" editors Ira Sheskin and Arnold Dashefsky, who also co-authored the chapter dedicated to the U.S. Jewish population. The professors say their figure is consistent with the estimate of 6.7 million that came out of the first-ever Pew Research Center survey of American Jews, conducted in 2013.
Both surveys include an estimated 1 million Americans who define themselves as "partly Jewish" – meaning that being Jewish is not their only identity. However, according to Prof. Emeritus Sergio DellaPergola, considered a leading authority on world Jewish demography, there are only 5.7 million American Jews.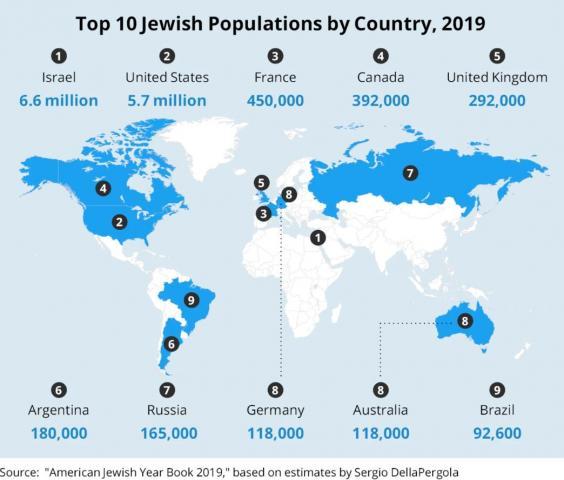 His estimate is included in a special chapter of the "AJYB" devoted to world Jewry. The difference of more than a million Jews – between his estimate and that of Sheskin and Dashefsky – is largely explained by the fact that DellaPergola, of the Hebrew University of Jerusalem, does not include "partly Jewish" Americans in his tally.
Rather, his calculations include only what he describes as the "core Jewish population" – a term that refers to individuals who identify as Jewish and affiliate with no other religion. It broadly overlaps with halakhic Jews, who are individuals born to Jewish mothers or converted by Orthodox rabbis.
According to DellaPergola's estimate, also included in the latest edition of "AJYB," the world Jewish population currently totals 14.7 million. But according to Sheskin and Dashefsky, there are a million more Jews living around the world – the difference largely explained by the varying estimates for the size of American Jewry.
Between 2018 and 2019, America's Jewish population grew by 43,000, according to Sheskin and Dashefsky.
Sheskin is the director of the Jewish Demography Project and a professor of geography at the University of Miami. Dashefsky is a professor of sociology and founding director of the Center for Judaic Studies and Contemporary Jewish Life at the University of Connecticut. The two have served as editors of the "AJYB" since 2012 and have co-authored the chapter on the U.S. Jewish population since 2006.
According to the "AJYB," 42 percent of American Jews live in two states: New York and California.
Judy Maltz